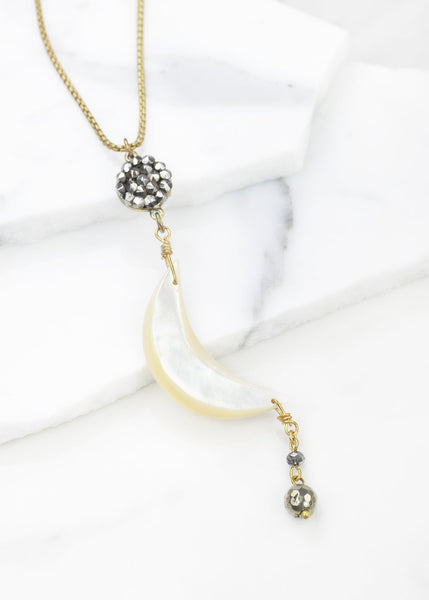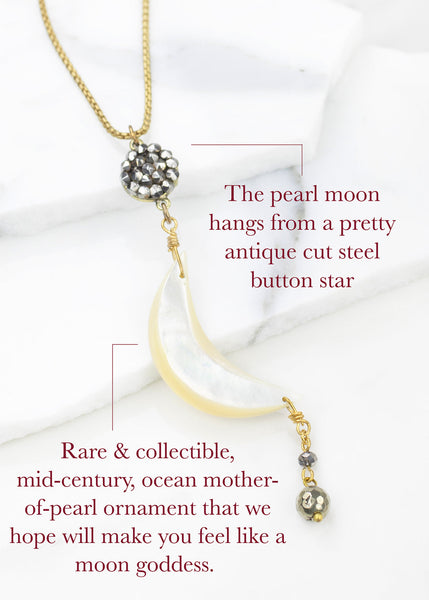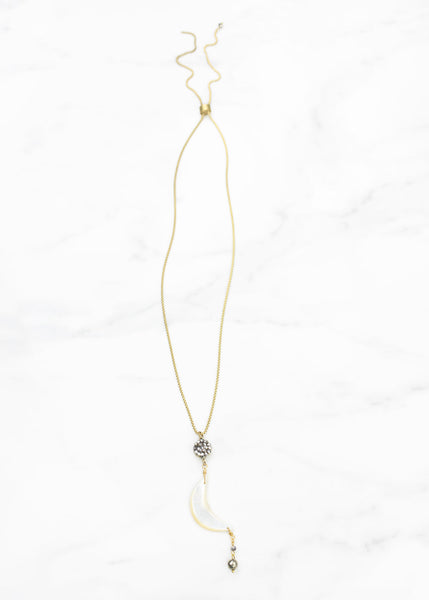 Selene Necklace
We named this spirited necklace Selene, after the goddess Romans regarded as the personification of the moon. Romans worshipped Selene during both new and full moons.
We think the spectacular, mid-century, ocean pearl crescent moon centering this necklace will make you feel like a goddess. 
It's a rare and highly collectible piece of mother-of-pearl. It was manufactured by the B. Schwanda Company, which was known during the early 20th century for being the purveyor of the highest quality ocean pearl buttons. 
The moon hangs from a pretty star in the form of a one-of-a-kind, antique, Victorian-era cut steel button. Cut steel buttons were first manufacturred in the 1720s and quickly rose in popularity as economical imitations of the diamond and marcasite buttons fashionable in the royal court.  We lovingly refer to them as "button bling". 
Every antique button is a one and only, chosen just for you, and so will not be identical to the image. 
This necklace also features a sliding clasp that enables you to adjust its length to suit any neckline. You can wear it as a choker, as a long pendant, or anywhere in between.
In this piece:
Small antique cut-steel button, circa 1880-1890

Mid-century mother-of-pearl moon, 1 3/4" in length

Brass-plated pewter setting cast in Louisiana

Tiny Czech glass beads

Large faceted pyrite bead

Antiqued brass chain 

Chain adjusts from a 15" choker to a 32" long pendant with a sliding clasp