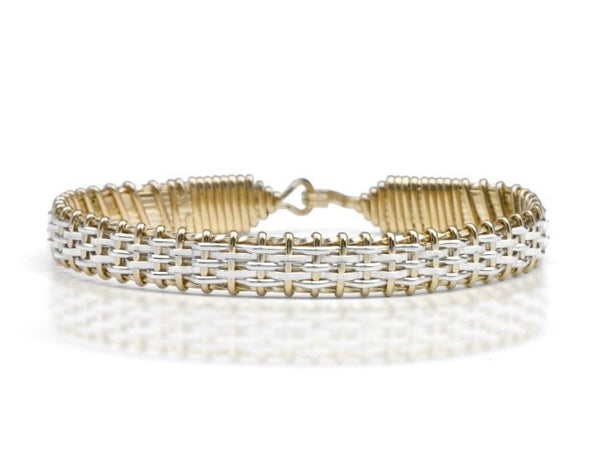 Ronaldo Princess Bracelet
Handcrafted in the USA, this beautiful bracelet made from sterling silver with 14k gold and Argentium silver.
he Royal Collection Series was inspired by the spirit and elegance of Princess Diana. The series started with fourteen months of development and design challenge, which, ultimately, allowed Ronaldo to alter a specific design into a number of combination's. Ronaldo considers this series the "Crown Jewel" of his entire collection in the bracelet category.

The Princess is woven with a base of 8 strands of 14K Gold artist wire or 14K Solid Gold and 5 (half round) of Argentium Sterling Silver or Platinum. The weave is precise, with no separations or high spots.
Mix and match any of our bracelets for your own unique look. There are many beautiful designs for your selection.
This bracelet would make a wonderful gift for a loved one, or a wonderful gift for yourself. It comes in a beautiful gift box with paperwork. 
SIZING INFORMATION: To determine your wrist size, take a cloth measuring tape and measure your wrist. Add 1/2 Inch to that measurement. If you do not have a cloth measuring tape, use a piece of string or strip of paper and mark where it overlaps on your wrist, measure with a ruler.
FREE USA shipping on all RONALDO jewelry with discount code RON1